Remembrance Service at St. Mary's Church
St. Mary's Church was filled with beautifully handcrafted poppies for Remembrance Day. The children tried to count them all before our service.
Father David Hayes led the service inside the church before we went outside for our Act of Remembrance. Mr. Hayes brought the Green Howard's standard for the playing of the Last Post. Mr Mike Auty, previous Chair of Governors, laid the wreath on behalf of the school. Five of the children from Class 4 read poems for us.
Thank you everyone, it was a lovely service.
Harvest Festival at St. Mary's Church
Micklefield Children's Choir at Churchville House.
Our school choir sang at the Macmillan Coffee Morning on Thursday. They sounded great and received lots of applause and compliments. We hope the children's singing encouraged more cake and coffee/tea sales!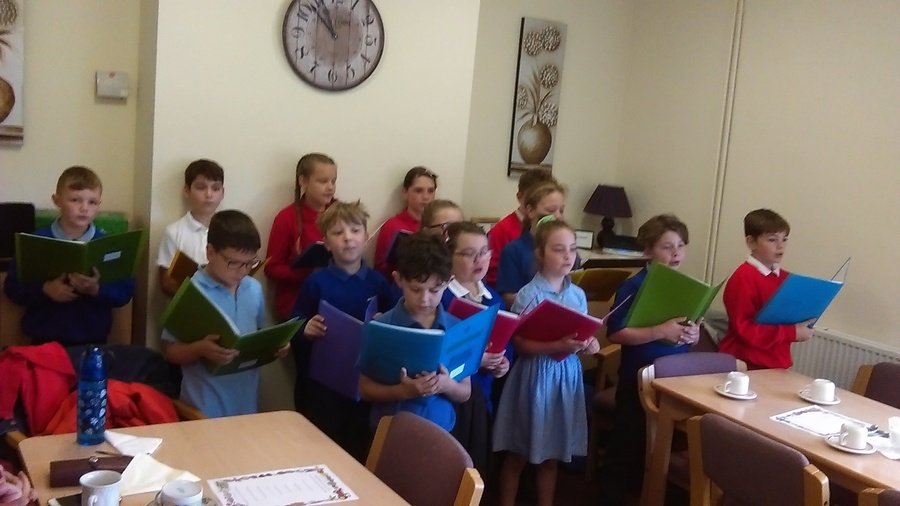 Tanzania visitor
Kathryn Cole came to our assembly on Monday 3rd September, to give an update on how the children are doing in the nurseries she works with in Tanzania.
They have a lovely new mat which they bought with our harvest collection last year. Kathryn is going to buy food for them with the money we collect for harvest this year.
They looked very happy sitting on their new mat on the photos!
We had a great day riding the Tour de Garforth with our cycling friends from the other local schools.
Oh we do like to be beside the seaside....!
Most of the children and many of our parents went on our seaside trip and had a lovely day out on Filey Beach as part of our Geography Themed Week. We paddled, built sandcastles, explored and shopped. Thank you Miss Watson and Mr. Bland for organising a brilliant day!